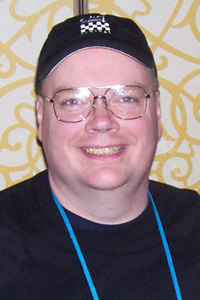 My name is Steven Lake, and as you can see by this site, I'm quite a colorful individual. I write to entertain others through captivating, gripping stories, as well as teach others about the love of Christ. I enjoy doing a variety of things including writing, building, repairing, helping others and so much more. It makes life exciting and interesting to me every single day of the year.

But regardless of what the title of this page says, or the brief introduction above, it's not about me. It's never about me! It's always about my Lord and Savior Jesus Christ. He gave His all so that I could be free of the bondage of sin and death, of eternity in Hell, and forever separation from Him. Without Him I am nothing. But with Him I am a vessel through which He works to bring peace and salvation to the world. He can also bring peace and salvation to your heart. How is that possible, you ask? The answer is simple.

Romans 3:23: for all have sinned and fallen short of the glory of God.

First, you must understand that you are a sinner. We all are, from the greatest to the least, including myself. No one is perfect. No, not one.

Romans 6:23: For the wages of sin is death, but the gift of God is eternal life through Christ Jesus our Lord.

Second, you must understand that the wages of sin, ie the consequences, is death. Yes, death. Banishment forever in Hell separated from God and everyone and everything you love and cherish. Total isolated, tormented separation forever. The ultimate solitary confinement.

Romans 5:8: But God demonstrates his own love for us in this: That while we were yet sinners, Christ died for us.

But do not despair, for there is hope. Even before we knew we were sinners, lost and without God, He sent His only son Jesus to die for all, even you, long, long before you were ever born. Yes, He cared enough for you that He sent Jesus to die in your place, and Jesus also loved you so much that when He was sent to die for you He went gladly, knowing beforehand the incredible pain and suffering He would have to endure on your behalf. That is true love, far above anything that exists in this world, and is the truest love of all.

Romans 10:9-10: That if you confess with your mouth, "Jesus is Lord," and believe in your heart that God raised Him from the dead, you will be saved. For it is with your heart that you believe and are justified, and it is with your mouth that you confess and are saved.

So how can you be saved? You must give over ALL of your trust to God, believe that Jesus is Lord of all, and believe that He raised Christ from the dead, and you will be saved. If you wish to pray right now and ask Jesus into your heart, begin by confessing to God that you are a sinner deserving of Hell, and you repent (ie, turn away) from all of your sins, and then ask Jesus to come into your heart and to save you and to forgive you of all of your sins and you will be saved! It's that simple!!

Now if you've just prayed that prayer, praise God and welcome to the family! Now, as a new believer there are two things you should do right away. 1) Confess your new found faith to at least two people, 2) find a bible and begin reading it, 3) begin praying to God daily, and 4) find a good, bible believing church in your area and begin attending. Put yourself under their leadership and learn all you can. The change it will bring to your life will be amazing! The love of Christ in your life even more so. :) If you can't find a good local church, consider reading my small pocket guide called "What Does It Mean To Be A Christian?" and also "The Great Commission". They're free and they'll get you started on the basics. But most importantly, get a good bible and READ IT!

Also, if you have questions, please don't be afraid to ask!!

===========================CONTACT ME===============================
I can be reached via email (me at earthfleet dot net), on Facebook or Youtube.