SERIES INFO

Earthfleet Saga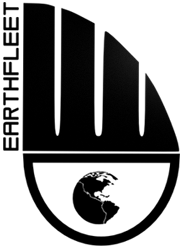 The Earthfleet Saga is a 4 book series that tells the story of Earthfleet, the military arm of the Brayburn Society (aka the "Society"), an organization of super geniuses, and all of their adventures in defending Earth. The main story in the series is centered around Mike Clayton, Grand Admiral of the fleet, as he tries to do his sworn duty of protecting and serving Earth, even if the people of planet Earth don't know he exists.

Being the small guy in a great big galaxy filled with nine gigantic races, four of whom want you dead, isn't an easy thing. There's intrigue, politics, military action, adventure, and so much more. You'll get to meet likable characters from every race, intriguing customs and cultures, and many species that will delight nearly everyone. You also get to meet a lot of really evil and detestable people, some human, and some not so much. This series also kicks off the entire Earthfleet universe with both a look at the world in which they exist, where they came from, and where they're going.
You also get to see how politics and daily life, no matter what planet it's on, or what species is involved, is so strikingly similar to Earth, showing that the apple doesn't fall far from the tree, no matter who they are.